21-06-2023
Pasta Garofalo and Playstation® celebrate passion for cooking and video games together.
The Gragnano pasta manufacturer and Playstation® join forces. This is how the new Play Your Pasta product came to life.
The partnership between the historic Gragnano Pasta manufacturer and Playstation® is live, a curious encounter between two seemingly different worlds, those of pasta and video games, giving rise to a unique co-branding project that creates a bond between different generations. Yes, because the gap between cooking champion parents – and video-game loving kids – can be overcome in the kitchen where the spirit of collaboration reigns supreme. So the Play Your Pasta campaign unites everyone, parents and children, gamers and food lovers, because pasta is a game to be played together!
For the occasion, the two brands have teamed up to launch a surprising new pasta!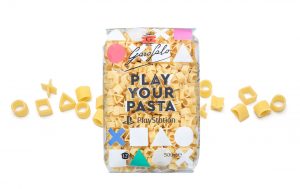 THE NEW PASTA PRODUCT
On shelves is a playful pack, featuring colorful and vibrant graphics, with new product inspired by the iconic PlayStation shapes: Circle, Cross, Square and Triangle. The geometric shapes reproduced by Gragnano's master pasta makers provide fun and lighthearted inspiration to make unusual and original pasta dishes, a must on the dinner table of video gamers of all ages.
Find the Play Your Pasta Special Edition pack online at www.ocado.com.
Follow Pasta Garofalo's social channels to find delicious recipes.