Peeled Tomatoes
Tomato products Tomato
Garofalo Peeled Tomatoes come from the selection of high-quality fresh Italian tomatoes.
After ripening in the sun, the tomatoes are picked and immediately peeled and pre-cooked by immersing them in their pulpy sauce. The Garofalo preservation technique allows obtaining all the aromatic and intense taste of the excellent tomatoes and the firm consistency of the freshly picked fruit.
Garofalo Peeled Tomato conserves are the fundamental ally in any Italian pantry, to be used in a versatile way for a simple and vegetarian condiment or as a base for preparing a pasta sauce.


Weight

796 ml

Line

Tomato Products
Thoughts and inspirations
Popular and even aphrodisiac, the juicy and sweet taste of tomatoes has been part of traditional Italian cuisine for centuries.
Once opened, the Garofalo Peeled Tomatoes release the smell of summer and the sweet taste of Italian excellence.
How Garofalo Is Made
We take nothing for granted when processing our pasta.
Each step, each process draws on both ancient experiences and recent discoveries, as well as on an original interpretation of taste.
The passion for our work translates into an indefatigable quest for perfection.
How Garofalo Is Made
Ingredients
Peeled Tomatoes,
Tomato Juice,
acidity regulator: citric acid (E330)
Nutrition facts
per 100g
Calories per 1/2 Cup (125 ml)

30 kcal

Fat
of which saturated0,5 g
0g

Protein

1,8 g

Salt

0 mg
You may also like
Be surprised by other Pasta Garofalo shapes
Peeled Tomatoes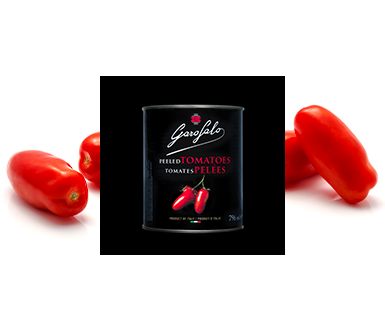 Discover